Welcome! This spending account lets you claim certain receipts for reimbursement.
How do you claim your receipts?
Watch the video below and follow the instructions. The support agent will walk you through how to download our free mobile app onto your phone. This is how you submit receipts for reimbursement to us.  
Of course, if you prefer the longer method of mailing in your receipts, click here to read up on that instead.
 Note: the video above shows an older version of ClaimSnap that is green in colour. The updated app is dark blue. 
Written Instructions On Downloading the Mobile App
iOS (iPhone, iPad): search for "ClaimSnap" on the Apple App Store
Android: search for "ClaimSnap" on the Google Play Store 
Or, simply click the relevant icon below on your mobile device:
2. On the search bar, type in the app name: "ClaimSnap".  
3. The following blue application badge will appear from National HealthClaim Corporation. Click to download it.

4. Once downloaded, open your new "ClaimSnap" application and login. If you do not have a password set-up, click here to do that first. 
Then click on the camera icon to start taking pictures of your receipts. 
That's it! Making a claim is as easy as that. 
What expenses can you start claiming?
The kinds of expenses you can submit varies between accounts. Login and see what expenses are covered on your account.
See image below for directions on where you can find this information your account.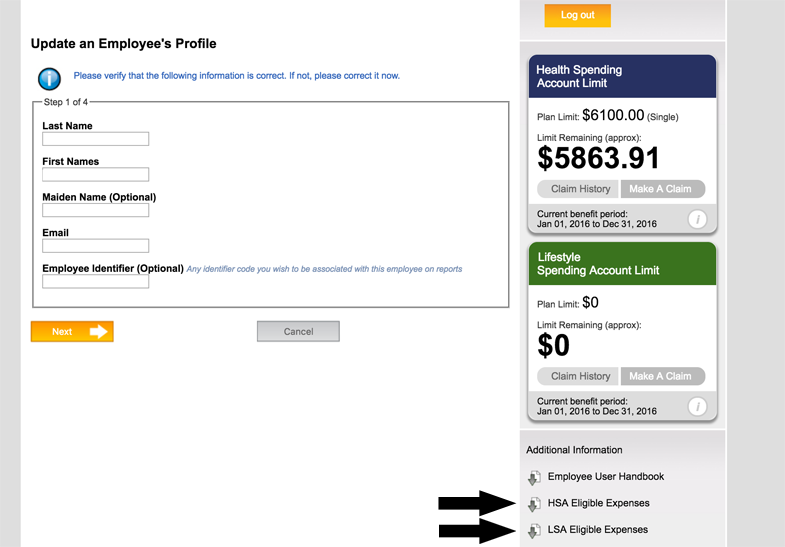 Note: You might see either HSA and/or an LSA link, depending on the coverages your company is offering with this benefit.  
Summary
Set-up a password, download our mobile app, Claimsnap, and login to see what kinds of receipts you can claim.
If you are confused about how we fit in with your other benefits, please note: National HealthClaim is not insurance. The spending account pays for certain expenses only after you have used all your Group plan insurance coverage(s).