A spending account is a yearly amount of credits available to you by your company for certain expenses.
To review what expenses you can submit for reimbursement, download your coverage list(s).
1) Login to your online account. If you do not have a password or need a new one, go through our password reset process.
2) Once logged in, go to the lower right hand of your screen and click on the "Eligible Expenses" document link(s).
Note: You might see an HSA and/or an LSA link, depending on the coverages you have under this plan.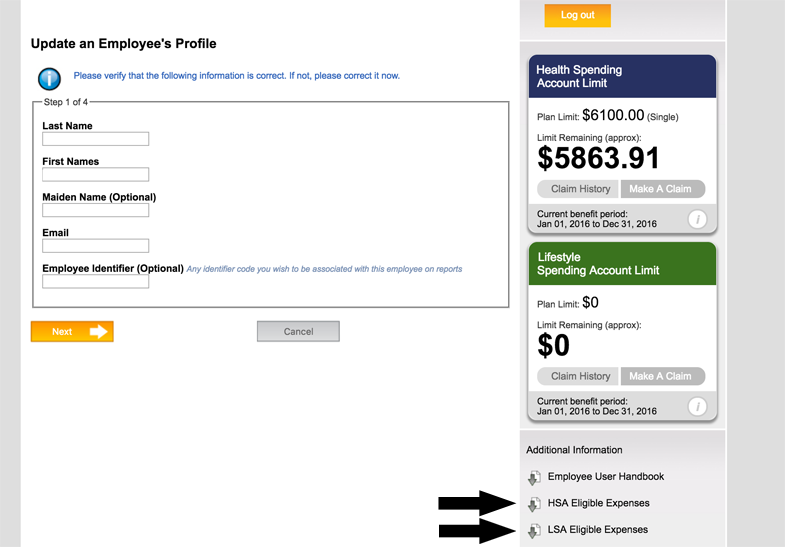 Note: You must submit your expenses to all insurance providers, including other HSAs before using the NHC spending account. We are the last payor.
Any time there is insurance coverage involved we require the detailed Explanation of Benefits document (EOB, sometimes called a Claim Statement) from all insurance providers including other HSAs, for each expense you are claiming.
This detailed document is issued directly by your insurance provider(s) and shows the treatment/service date, patient name, treatment/service details, total cost of treatment, the amount paid toward each expense (even if it is 0) and all applicable messaging/notes for each expense regarding why insurance paid the amounts they did.
If you do not have your copy, contact your insurance provider directly to obtain it. Please note, online copies or screenshots are acceptable. Summary documents are not acceptable as they do not include all of the required details listed above.
If you don't have other coverage for your expense(s), submit to National HealthClaim directly.