Get Started
Here is an overview of what we'll cover in this article.
General receipt checklist
Your receipt must:
Specify who the expense is for.
The date of service -this is not the same thing as payment date. We need the actual date of treatment or when the items were purchased.
The type of service.
Provider name - this can be the name of the company providing the item. Or for health receipts, the name of the medical practitioner who provided the service and their registration number.
The amount paid.
DIN (drug) number if applicable.
Till-tapes are bad receipts
A till-tape or credit card slip. It will not give us any of the information above. We need a detailed invoice for your claim submission.
What to submit when you have insurance
You must submit your expenses to all eligible insurance carriers first before using the spending account. We are the last payer.
Any time there is insurance coverage involved we require their "Explanation of Benefits," the detailed document that confirms how much the insurance carrier has paid towards an expense (even if it is 0). If you do not have your copy, contact your insurance carrier directly to obtain it. Please note, online printout copies are acceptable. Summary documents are not acceptable.
More details found here.
Dental - Standard Dental Claim Form
The Standard Dental Claim Form is filled out by the dental office and includes information that does not typically appear on a regular dental invoice. Most commonly missing from other documents is a listed treatment date. While the billing date may be the same as the treatment date, this is not always the case. As dental claims are processed by the treatment date specifically, we do require clear confirmation.
If you have no other coverage, we ask that you request a Standard Dental Claim Form from your dental office for each treatment.
Sample Form: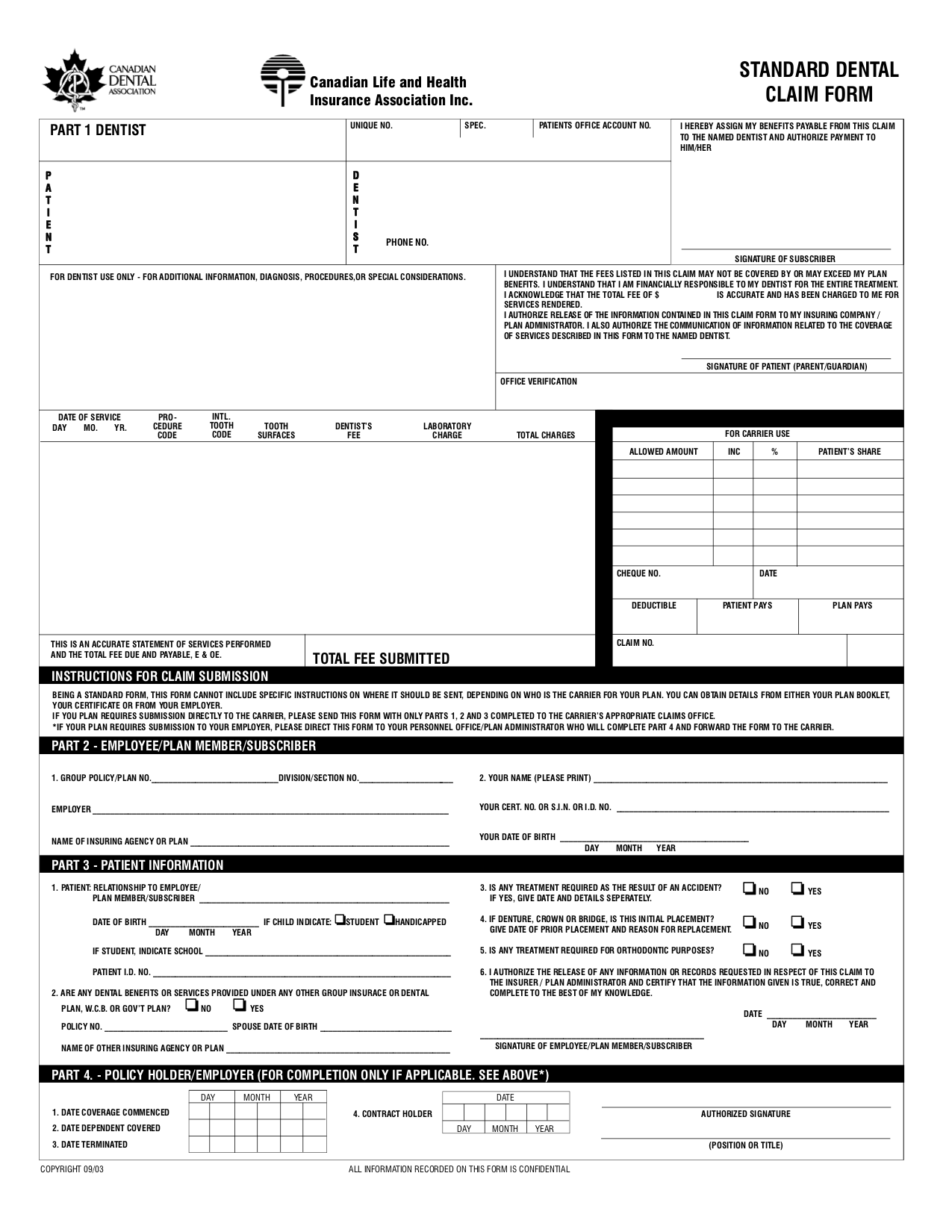 How to claim orthodontic expenses
With your first Ortho claim, you will need to include your original orthodontic predetermination (a detailed Ortho Plan that confirms whom the treatment is for and the payment schedule). This will be recorded on your account and only needs to be sent to us once. All payments you submit to your Health Spending Account (HSA) for reimbursement must match the Ortho Plan we have on file. If your payment arrangement changes, you will need to submit a revised Ortho Plan.
If there is no insurance involved, you can simply send us a proof of payment document from the orthodontist for each payment you wish to claim.
If there is insurance coverage, you will need to submit to them first. They will process the claim according to the payment schedule and provide you with a document called an Explanation of Benefits (EOB) which you can then submit directly to us. The EOB includes the following information:
The insurance company name.

Provider information.
Patient/Claimant information.
Treatment or service details, including the date.
The full cost of the treatment or service.
The amount paid by the insurance company.
Messaging that explains why the insurance company paid or didn't pay.
The unpaid balance shown on the EOB is eligible to be claimed through your health spending account. Even if the EOB shows a payment of $0 (either no coverage or the maximum allowable has been paid), we require that document. Once your other carrier's ortho limit has been reached, your EOB will indicate that the maximum has been reached. When you submit that document with an ortho claim, we will note in your file that you no longer have ortho coverage. From that point, you will be able to claim your full ortho expenses with only proof of payment from the orthodontist.
How to submit a travel medical claim
In order to claim expenses related to travelling for a medical appointment more than 80km from your home, you must provide the following:
A doctor's letter confirming (as per CRA guidelines) that "substantially equivalent medical services are not available near your home and that under the circumstances, it is reasonable for you to travel to that place for those medical services."
If you are claiming any travel companion expenses, you will also need the doctor's letter to certify that you were not able to travel alone to get medical services. This would allow you to claim their expenses, as well.
Proof of your medical appointment. Preferably a detailed invoice, but a letter from the provider will suffice if you are not claiming the appointment cost itself.
The completed Travel Expense Form, which you can download here.
How to claim an expense in any currency other than CAD
In order to submit an expense in a currency other than CAD, you must include the following:
The original invoice.
A translation of the invoice to English (if applicable). Please ensure the details include the provider name, patient name, service details including service date, and the full cost of the service.
Confirmation of payment and exchange rate to CAD. If you paid by credit or debit card, you can include the line from your statement showing the amount paid in CAD and the date of payment. If you paid with cash, you can go to www.x-rates.com

to obtain the conversion of what you paid on that date. Please include the information from

x-rates.com

, as well as a note stating you paid by cash and have no further documentation to provide.