When you are adding a new employee on the system, there is a step that allows you to enter in a hire date.
This is important as it determines how the waiting period and pro-rating is calculated, if you have those features enabled. To view or edit these features, click here to learn how.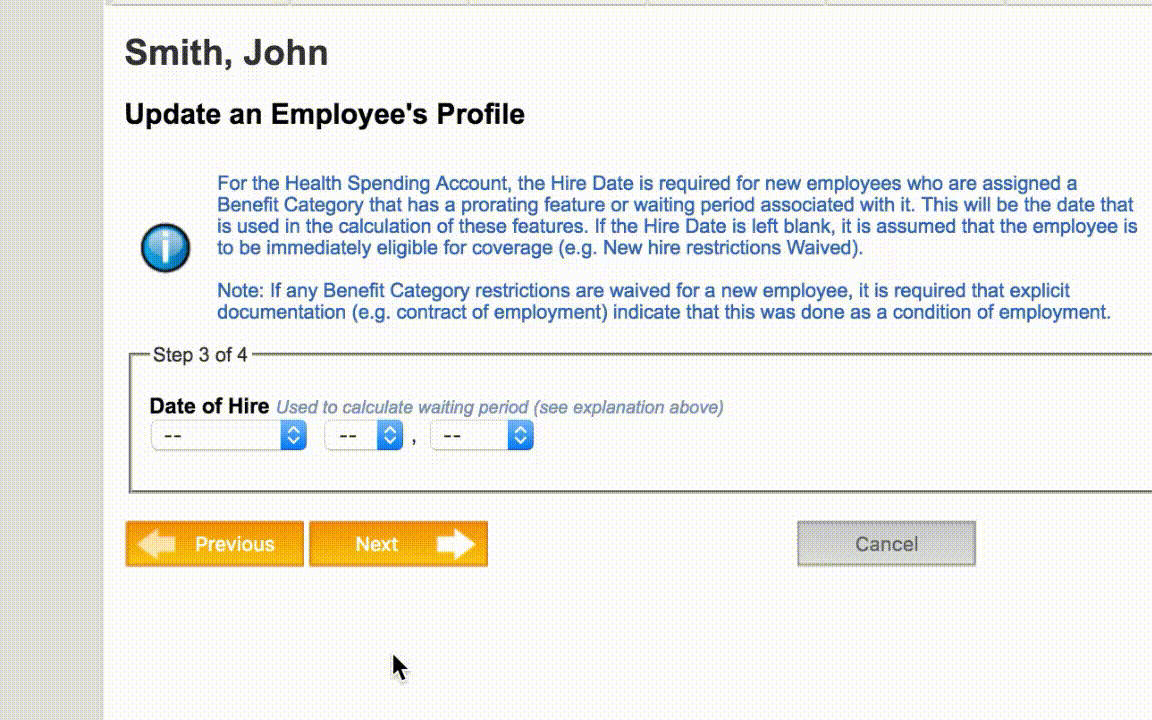 Definitions:
Waiting period: The number of days an employee has to wait, after they are hired, before their benefits begin. The system allows an entry of 30, 60, 90, 180, 365 days.
Note: Only once the waiting period has elapsed will employees get a welcome email from National HealthClaim.
Pro-rating: If this feature is on, an employee does not get a full year's limit if they are added mid-year to the account. For example, if an employee is eligible for benefits starting July, they will receive 6/12th (50%) of their limit. This is assuming the standard Benefit Year of January - December.
As a plan administrator, you do not have to calculate these restrictions. The system will handle it automatically, based on the hire date you enter when adding the employee.
Note: Waiting period is calculated on a daily basis. Pro-rating is calculated on a monthly basis.
See below example for details:
Sample Calculation
New employee John Smith at Company A
Benefit Year: January 01 - December 31
Waiting Period: 30 days
Pro-rating: Yes
Benefit Category: Part-time Employee with $500 limit
Hire Date: March 01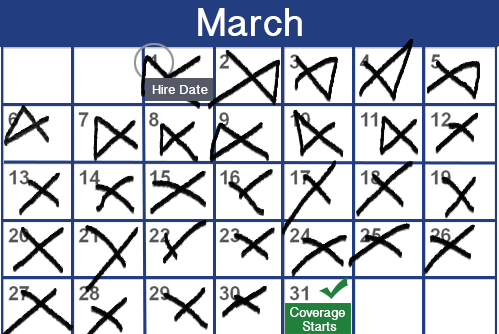 Results:
Waiting period is calculated on a daily basis. March has 31 days in the calendar month. After a 30-day waiting period, the benefits for John start on March 31.
However, pro-rating is calculated on a monthly basis. Although John is on as of the last day of March, he is technically still within the month. So John is granted 9/12 (75%) of his limit. He has a limit of $375 to use, until his benefits reset on December 31.
If, as a plan administrator, you intend for John to have 8/12 (0.66%) of his limit instead, then you can enter in the hire date of March 02, to ensure this happens. So after 30 days, John will land in the April calendar month, and have a limit of $330.
Note: If you leave hire date blank when adding an employee, BOTH the waiting period and pro-rating are waived for that individual.
That is a detailed look at waiting period and benefit categories.
Hope that helps!